Coogee is focused on partnering with like-minded companies with the right capabilities and complementary skill-sets, as well as an established culture of transparency and openness. We believe this approach drives mutual benefit in growth and further longer-term opportunity.
The commitment of our people, our alliances with existing and new partners, and our focus on quality, safety of operations, and service excellence remains critical to our future success.
Sodium Cyanide Plant
The Sodium Cyanide plant, located at CSBP Limited's chemical and fertiliser complex in Kwinana, is a joint venture between Coogee (25% shareholding) and CSBP – a subsidiary of Wesfarmers (75% shareholding). The plant is managed by Australian Gold Reagents Pty Ltd (AGR), and has won a number of engineering excellence awards for its innovative design, and emphasis on safety and efficiency.
Commissioned in 1988, the plant was the first of its kind in Australia. It was established to service the growing gold mining industry in Western Australia, where Sodium Cyanide is used for the extraction of gold. Since this time, the plant has been upgraded and is now capable of producing up to 78,000 tonnes of liquid Sodium Cyanide per annum.
For further information, including the manufacturing process of Sodium Cyanide, please follow this link.
Visit Australian Gold Reagents Website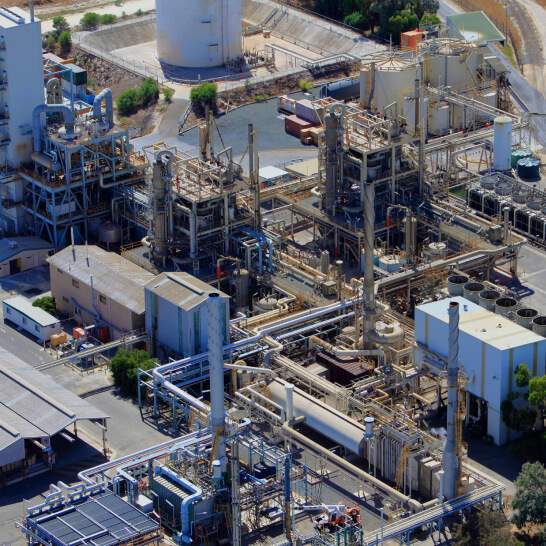 Australian Gold Reagent, Kwinana, WA
Want to read more?
Innovation for where the world is heading next.